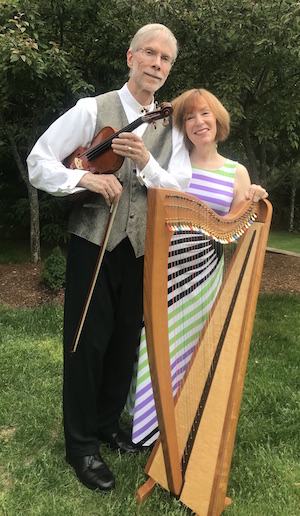 As the duo
Fiddle & Harp
, Gordon and Marcie Swift (husband and wife) perform Celtic and American tunes in concert and for parties, weddings, receptions and other special occasions. Soothing harp and spirited fiddle join in a program of musical meditations, sparkling jigs and reels, romantic waltzes and more.
Sample audio clips:
The Heart Is True
(Irish, 3:10)
The Lovers' Waltz
(Jay Ungar / Molly Mason, Swinging Door Music, 3:13)
The Drunken Sailor
(Irish, 3:15)
Glenlivet / The Gravel Walk
(Scottish / Irish, 2:09)
Searching For Lambs
(Irish, 3:28)
Wedding processional
(Gentle Maiden, Irish, 1:13)
Wedding recessional
(Scatter the Mud, Irish, 1:45)
Check out our
NEW CD
!
Appearing next:
Couples Evening Retreat
Wednesday, May 8, 2019
5:30 p.m. - 9:00 p.m.
Holy Family Passionist Retreat Center
303 Tunxis Road, West Hartford, CT
860.521.0440,
info@holyfamilyretreat.org
Offering: $40 per person (includes wine & cheese and buffet 'surf & turf' dinner). Join us for a delightful 'date night' including a wealth of great pairings. Our presenters for the evening are a great pair themselves, Marcie and Gordon Swift. They'll share tales about how they met and how music later tightened the bonds between them and will perform selections from their recently released CD,
The Heart is True
. Together this married couple demonstrates the unifying, intimate power of music as refuge from a chaotic world.
Register here
.
Soroptimist Dinner
Thursday, May 16, 6:30 p.m.
Metro Bis Restaurant
690 Hopmeadow Street, Simsbury, CT
Please support Soroptimist and enjoy a three course meal along with a performance by Fiddle & Harp. This global volunteer organization improves the lives of women and girls through programs leading to social and economic empowerment. Fiddle & Harp will add to the festivities with Celtic and American tunes. The price is $50.00 per person including service, with profits benefiting Soroptimist. Dietary issues may be accommodated. Please call 860.651.1908 for reservations.