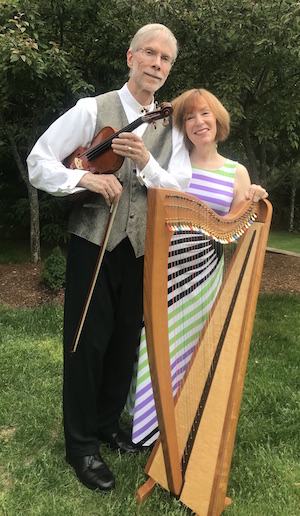 As the duo
Fiddle & Harp
, Gordon and Marcie Swift (husband and wife) perform Celtic and American tunes in concert and for parties, weddings, receptions and other special occasions. Soothing harp and spirited fiddle join in a program of musical meditations, sparkling jigs and reels, romantic waltzes and more.
Sample audio clips:
The Lovers' Waltz
(Ungar/Mason, 3:13)
Glenlivet / The Gravel Walk
(Scottish / Irish, 2:09)
Searching For Lambs
(Irish, 3:28)
Wedding processional
(Gentle Maiden, Irish, 1:13)
Wedding recessional
(Scatter the Mud, Irish, 1:45)
Appearing next:
Thursday, June 28, 7:30-8:30 p.m.
Copper Beech Institute
303 Tunxis Road, West Hartford, CT
860.760.9750,
info@copperbeechinstitute.org